Bonus
Dans certaines boîtes, il y a des petits bonus pour l'enfant : publicité, histoires, images…
0007-3880 (1982)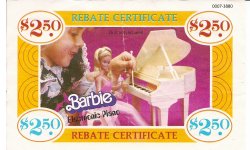 Rebate Certificate Electronic piano
Photographie de Barbie Pink n pretty devant son piano électronique.
1757-0890 Dans les boîtes de Barbie Western (1980)
Planche d'images prédécoupée
Photographies de Barbie Western
007-5100 (1984)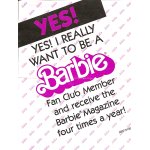 Bulletin d'inscription au club de Barbie
Livret 1737-0900 et Livret 1737-0700 Dans les boîtes de Barbie Jewel secrets (1986)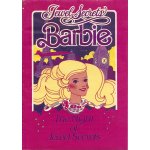 Barbie Jewel secrets : The Night of Jewel secrets
Barbie ; La nuit des bijoux secrets
Ce petit album raconte la nuit la plus fantastique de Barbie : Bal au Palais de Buckingham, Carnaval à Paris et dîner avec le Président des Etats Unis, le tout dans la même tenue, en la combinant de différentes manières !
Livret 3133-0900 Dans les boîtes de Skipper Jewel secrets (1986)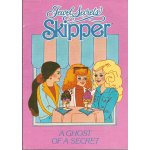 Skipper Jewel secrets : A Ghost of a secret
Skipper participe a un concours organisé par son club de photo : il s'agit de faire la photo la plus inhabituelle. Barbie suggère à sa soeur de prendre en photo d'un vieux manoir au coucher du soleil. Skipper est ravie de voir un fantôme, mais Barbie ne croit pas aux fantômes. Whitney et Ken décide de lui faire une bonne blague…
3133-0990 Dans les boîtes de Skipper Jewel secrets (1986)
Planche d'images prédécoupée
Pellicule photo, prix, glaces, images représentant Barbie, Ken et Whitney
Livret 3179-0900 Dans les boîtes de Whitney Jewel secrets (1986)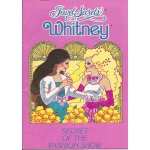 Whitney Jewel secrets : Secret of the fashion show
Whitney apprend de son ami Pierre Pierre, célèbre designer, que Barbie a été élue Femme la plus glamour de l'année. Whitney souhaite organiser quelque chose de très spécial pour lui remettre son prix. Skipper et Ken vont l'aider à faire une surprise à Barbie, à l'occasion d'un défilé de mode monté par le club de photo de Skipper.
Livret 4439-0900 (1987)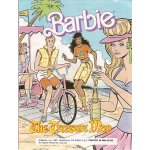 Barbie : The Treasure map
Avec les California dream. Barbie découvre une carte au trésor dans une bouteille. Mais la carte est égarée, la retrouver sera une véritable aventure… pour découvrir qu'il s'agit en fait d'une invitation de Midge, Christie et Ken.