Popples et Bisounours
J'ai passé des jours à ranger cette étagère et je ne suis pas encore convaincue du résultat. Cela semble trop tassé, aussi bien pour les livres que pour les peluches. Les Bisounours n'étaient pas prévus, nous avons acheté le premier pour ma belle soeur. Axel l'a réquisitionné donc depuis nous lui en achetons en vide-grenier et il en a adopté un en tant que doudou. Quant aux Popples, cela fait plus longtemps que nous en achetons, mais au début nous ne gardions que les petits. Il existe un intrus dans les peluches : un chat Barbie and the Rockers.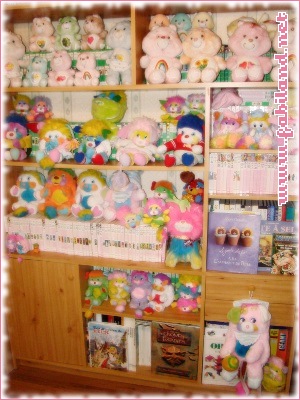 La plupart des livres de l'étagère sont des Bibliothèque rose et des Bibliothèque verte. Mes préférés sont situés à l'étage du haut derrière les Bisounours : les Conquérants de l'impossible de Philippe Ebly et les Langelot de Lieutenant X.